Contact Center includes several off-the-shelf reports that allow you, the Admin, to have an understanding of what's happening within your system. Reports can be viewed directly through the UI or they can be downloaded.
Information about "Call" reports:
Click on Reports, and then Calls, you will then be presented with this menu below:

A Few Types of Reports:
Call Reports- This allows you to gauge your lead quality, viewing how often the disposition for the leads is a "sale", "hang-up", etc. From, here you can see where your best leads are coming from, area codes that may not be as interested. A lolt of valuable information to help you optimize your dialing efforts.
Inbound Report- shows the Call Hold Time, Drop Time, Answered Time, Hangup reason, Status, Custom Status, Initial Queue position, Agent Stats, and Call Answered Time.
Inbound Report by DID- This allows you to see what DIDs may or may not be working out well. As DIDs are used over and over again, you may see pickup rates decline, Swapping out DIDs is an option.
Information about "Agent" reports:
Click on Reports, and then Agents, you will then be presented with this menu below: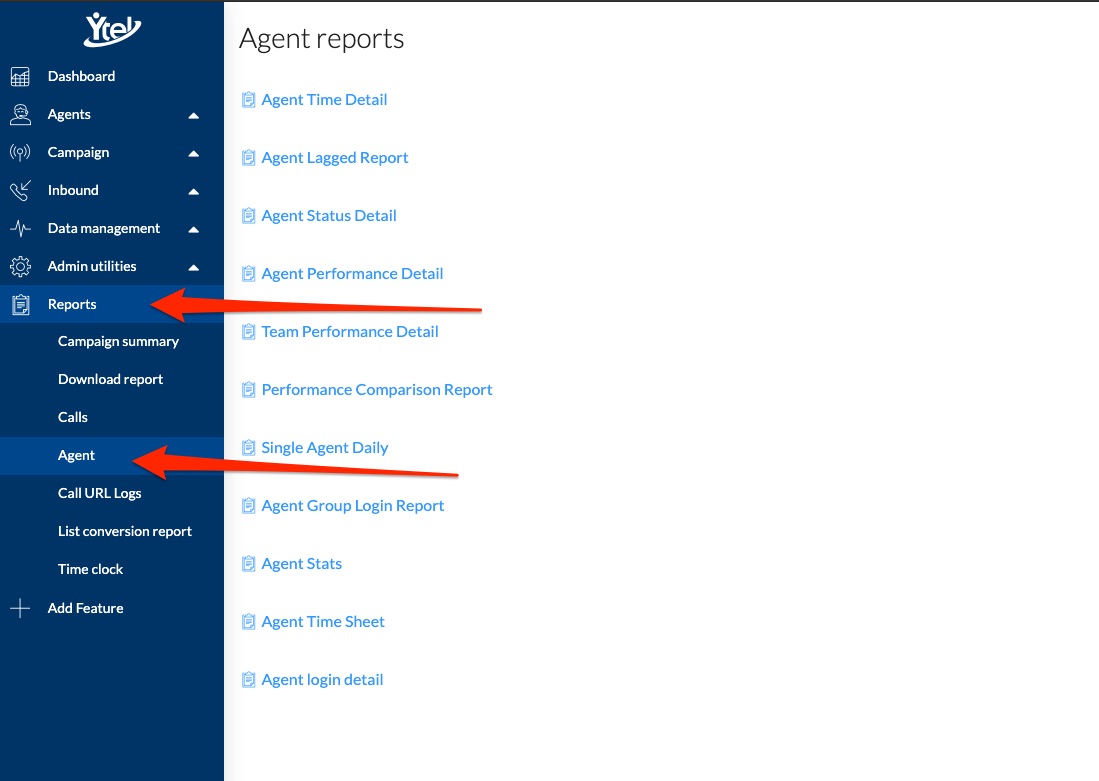 A Few Types of Reports:
Agent Stats Reports- Agent reports allow you to see how your individual agents are performing. Some questions this report answers: "Are they going on pause a lot?" or "How successful are they converting leads to sales?" "Which agent is performing the best?" You can also view the call recordings here.
Pro Tip: If you have an agent who is really good about converting, maybe you want to increase their priority of getting calls or use their call recordings as training tools for other agents.
Agent Time Detail Report- Find times that agents were logged in, Clocked in, etc.
Agent Status Detail- Call stats by agent, See how many of their calls were by certain status: Ie. John Doe, 5 calls, 12% DNC, 2 resolved, 2 sales, 1 pending, 0 bill, 0 bad, 0 TC.
Agent Performance Detail-
Shows the stats below. Can be filtered by User Group, Campaign, and/or User.

Team Performance Detail- Similar to the Agent Performance detail, however stats are by group (support, billing, sales, etc.)
Single Agent Daily Report- Report on one agent, within a date range.

Do you have a need for a custom report? Our Professional Services team is more than ready to tackle your challenge. Ask a Ytel Support Representative about custom report options today!
We're here to help - if you need assistance, please contact the Ytel support team via email at support@ytel.com or you can click the live chat button at the bottom right of your screen.