With spam calling on the rise, telephone companies have implemented various technologies (analytic engines, machine learning, pattern recognition, etc.) to help combat and prevent unwanted calls from reaching their subscribers. Although this has blocked a large portion of ingress spam in the US telecom networks, these systems and analytic engines can have a negative impact on businesses reaching consumers over the voice channel. In other words, legitimate phone calls are being blocked by these very same technologies.
DID YOU KNOW? The top-3 mobile network operators make up approximately 323 million subscribers, representing about 80% of the mobile market. Verizon with 121M+, T-Mobile with 104M+, and ATT with 97M+.
How Ytel is Helping
STIR/SHAKEN - The purpose of STIR/SHAKEN is to combat the use of caller IDs owned by others - this practice is commonly referred to as "spoofing". STIR/SHAKEN is implemented at the voice provider network level to attest to the veracity of the calling party's number. As a customer of Ytel, this process is handled for you automatically and there is nothing you need to do!
How it works: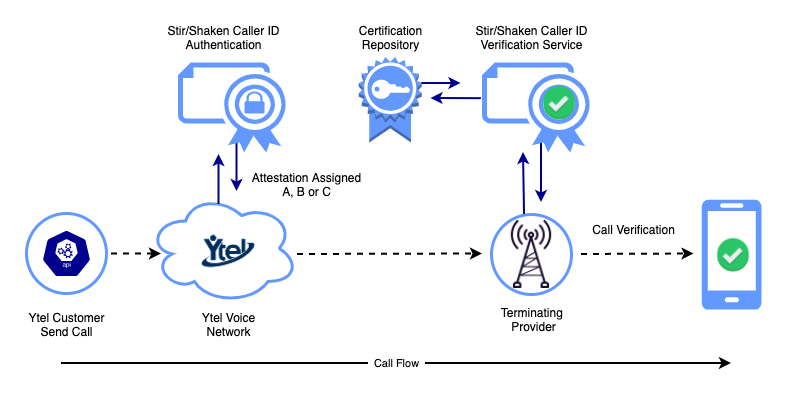 A few notes on STIR/SHAKEN:
STIR/SHAKEN is required by the FCC
Ytel signs your call with A-level attestation, the highest level possible
STIR/SHAKEN is only supported on local phone numbers
STIR/SHAKEN is not supported on toll-free numbers
STIR/SHAKEN does not apply to the SMS ecosystem (text messaging)
Ytel was one of the first CPaaS companies to complete a STIR/SHAKEN call. Read more here
For more information on STIR/SHAKEN, click here
CNAM - Caller ID Naming (CNAM) is a service that associates a name (business or personal) with a phone number. CNAM increases the reputation of the calling number and can help decrease the possibility of being identified as "scam/spam likely". It may also increase the consumer answer rate, because the calling party is identified.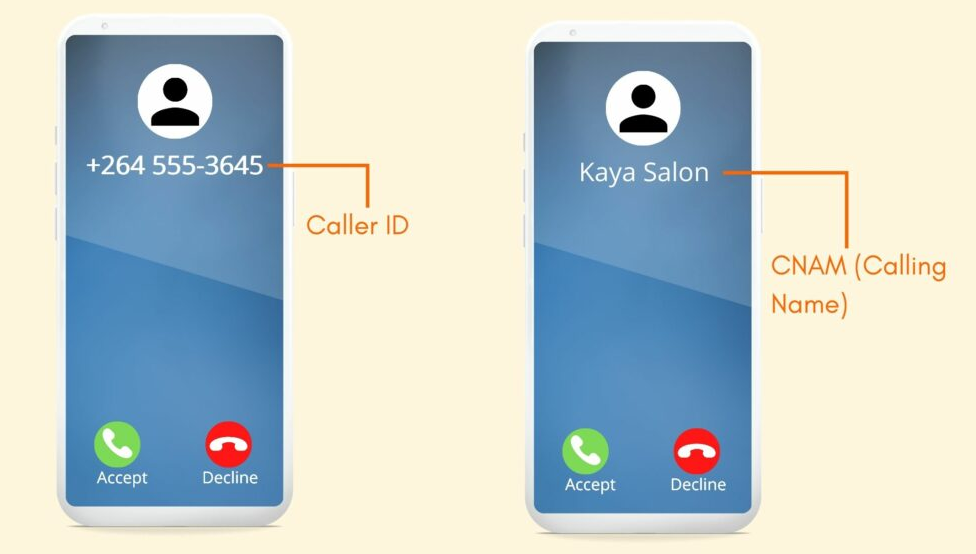 To set CNAM on your numbers, follow these simple steps:
Login to your Ytel Administration portal here
Navigate to Settings > CNAM Management and click "Request new CNAM"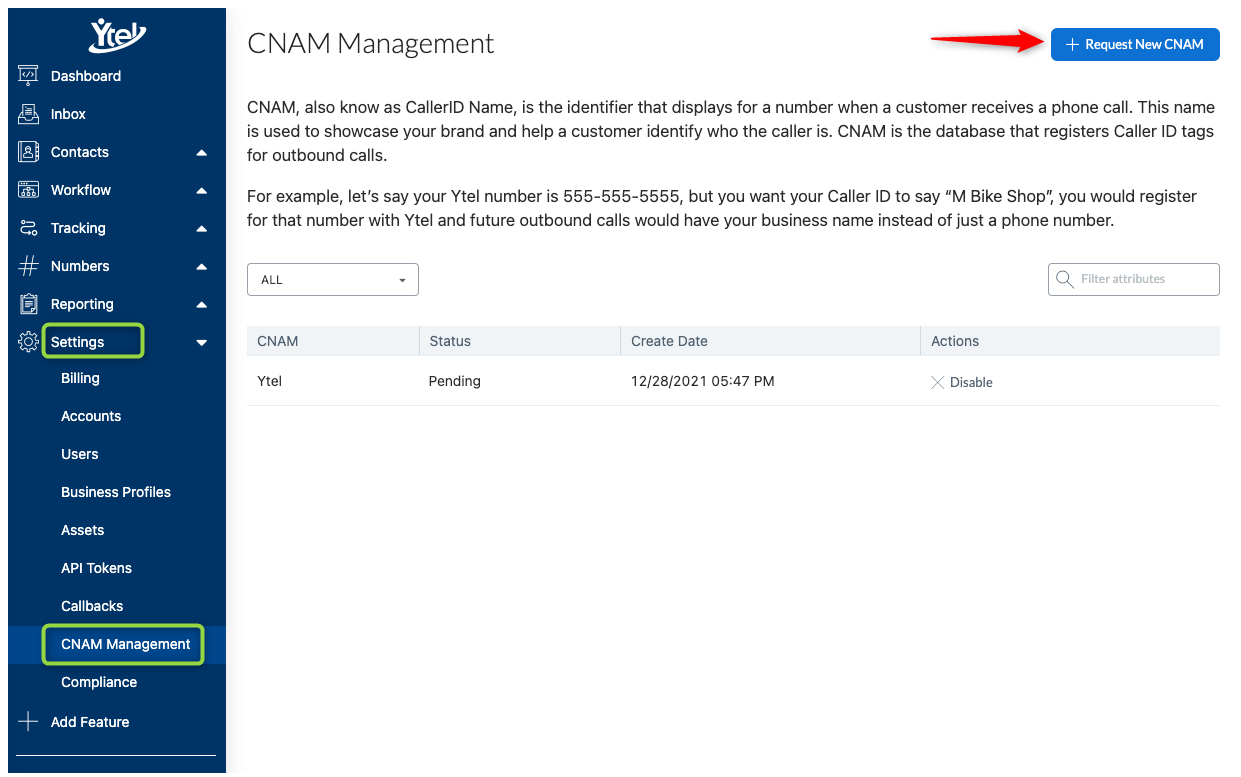 A CNAM may use both letter and number characters - though it must begin with a letter. The maximum length is 15 characters, including spaces. If you have multiple departments, we recommend each department be labeled with the company name and department. For example: Ytel, Ytel Support, Ytel Sales, etc.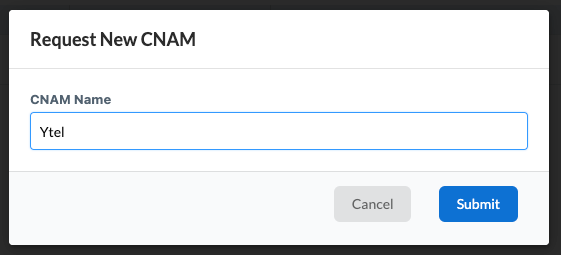 Note: Ytel is only able to approve a CNAM that matches your legal business entity names and/or your registered DBA(s). If you require special accommodations, please speak with a representative of our Customer Support team.
Once your CNAM request has been submitted, approval can take up to 3 business days. We provide updates through the UI and via ticketing system - keep an eye out for our emails!
Once the CNAM has been approved, it will then need to be applied to a number set.
From your Ytel Administration portal, click on Numbers > Number Sets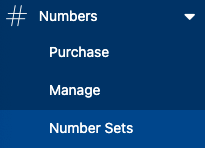 Choose the Number Set you wish to apply the CNAM to (or create a new one if necessary).
Click on CNAM Settings

Then select the CNAM you wish to use for that number set and click Update!
Ytel sends regular updates to the central CNAM database used by major carriers every 30 minutes.
Important items to keep in mind with CNAM:
Your CNAM may appear one way on one network, a different way on another, and/or not at all on a third. While consumers may notice little difference, businesses can experience a wide range of results when testing due to this fragmentation within the carrier ecosystem. CNAM supports showcasing your brand, but is not guaranteed to show on all devices, handsets, and/or carriers.
It can take 30-days (or longer) for the major carriers to update their internal systems to recognize and display the new CNAM. It may take even longer for smaller, regional providers to update their systems.
When/if the carriers display CNAM, it may overwrite previous words such as "Spam Likely" or "Telemarketer" is accompanied with a STIR/SHAKEN validated phone call + registration with freecallerregistry.com
Most mobile carriers charge a premium to display CNAM. Their customers may not subscribe to the service/feature and therefore may not receive CNAM information to their handset.
It is common for older handsets (or handsets with outdated software) to not display CNAM.
Most pre-paid phones/plans do not support CNAM.
Best Calling Practices
Comply with all "Do Not Call" lists, and other Telephone Consumer Protection Act (TCPA) requirements; as well as State and local laws.
If you don't have an existing business relationship, routinely scrub your contacts against the national "Do Not Call" registry (and applicable state registries), as well we the Recycled Number Database.
Don't contact people that don't want to be contacted. Receiving a single complaint may flag a number for further reviews by the carriers.
We recommend a range of calling a person no more than 3 times per day, maximum. Calling the same number multiple times in a day or multiple days in a row will likely result in the calling number (your number) becoming flagged.
Numbers being called should not be grouped or sorted in a way that generates a pattern.
Avoid mirroring the first few digits of the destination phone number. This is commonly known as "neighborhood spoofing". Analytic engines aggressively monitor for this type of behavior. Calling numbers (your numbers) should be from office area codes or from an area code where your employee is located.
Leave a message!

Analytic engines are more likely to flag a number as spam if they are hanging up on voicemails on a regular basis.
Avoid this practice by leaving a human spoken answering machine message.

Avoid Short Duration Calls by making sure your average call lengths are greater than 60 seconds. A call length of 60 seconds or longer typically indicates the answering party is engaging with the calling party past a "hello" and establishes a pattern of trust with the carriers and analytic engines.
Keep your calling list(s) manicured. Low call completion rates are often associated with unwanted calling behavior.

Remove contact numbers from your systems that don't connect
Do not call unassigned or disconnected numbers
Do not engage in the practice known as "war dialing" (calling numbers in successive order ie. 949-555-0001, 949-555-0002, 949-555-0003, etc)
Routinely scrub your list(s) against the Reassigned Number Database

Provide consumers with a clear identification of who is calling, along with easy to understand directions for opting-out of future calls.
Provide a telephone number and/or other contact information - answered by a human - that consumers can use to report alleged violations.