The User Management area allows you to Add, Delete, and Edit user settings.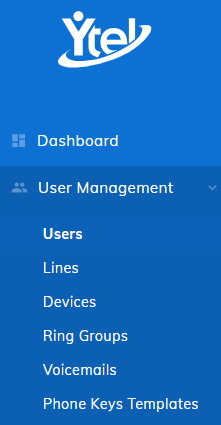 Users
Click 'Users' to display a list of current user accounts

Click into the User to display a submenu of configurable options

User - Subscription and Personal Information

Account - Authentication and Email Address

Voice Services - Custom music on hold, DTMF Services, CallerID configuration

Forwards - Call Forwarding settings, Default behavior settings

Recording - Call Recording controls for the user

Lines - Control the Subscription for the individual user. Configure the lines available for the user.

Ring Groups - Assign the user to one or more Ring Groups

Phone Keys - Assign templates to the user's hard phone

Schedule - Assign specific business hours to the user

Voicemail - Assign a specific voicemail box to the user

Call Permissions - Assign a permission profile to the user
Lines
Displays a listing of assigned lines.

Clicking into an individual line presents additional options. None of these values should be modified or deleted unless per specific instruction from Ytel Customer Support.
Devices
Displays a list of all Devices (aka physical phones or hard phones)

Use this page to add a new Device, prior to connecting the device and completing the provisioning process.

Input the MAC address of the device

Provide a description

Click 'Create'
Ring Groups
Allows you to Create and Edit your Ring Groups

Ring Groups allow you to easily assign 1 or more Users to a reachable destination - Eg. Customer Support - and allows you to control how calls are distributed, along with other basic settings.

Click into the individual group to gain access to additional configuration options.
Voicemails
Allows you to Create and Edit User voicemails

Click into the individual Voicemail box to edit settings
Phone Keys Templates
Allows you to Create and Edit phone key templates for physical phones