Music on Hold provides you the ability to create your own custom hold music that your customers will hear while they are waiting to speak with one of your agents. Ytel does provide a default on-hold music in case you prefer to use an existing sound.
Step by Step Guide
Uploading your Audio Files
First, we will need to upload the audio file you wish you use. It is possible to have multiple different audio files play as part of your music on hold.
1: Navigate to the Admin Utilities → Audio
2: Either "Drag & Drop" your audio files into the appropriate field or click the "browse" button and select the audio file you wish to add. You can add mp3 or wav files and each file must be uploaded 1 at a time.

Done

Creating your Music on Hold
Once our audio files are uploaded into the system, the next step is to create our custom Music on Hold.
1: Navigate to the Admin Utilities → Audio
2: Select the MOH tab and then press the "Add MOH" button on the right side of the screen.


3: Fill our the required fields. For now, leave "Random Order" off and set "Admin User Group" to "---ALL---" from the drop down menu.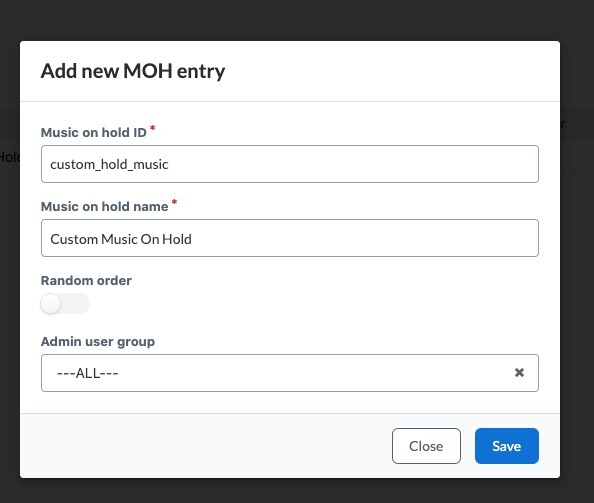 4: Once your new MOH entry is saved, click on the "edit" icon on the far right under the "Actions" column.


5: Click the blue button that says "Select/Manage Audio" and select the audio file you wish to add from the menu. Once the audio file is selected (click the "paper icon") to select it and then press "Save".
Continue with Step 5 for each audio file you wish to add
6: Once you have selected all the audio files you wish to play, you can either set them to play in a "Random Order" by toggling the setting or you can play them in a specific order based on their assigned "Rank".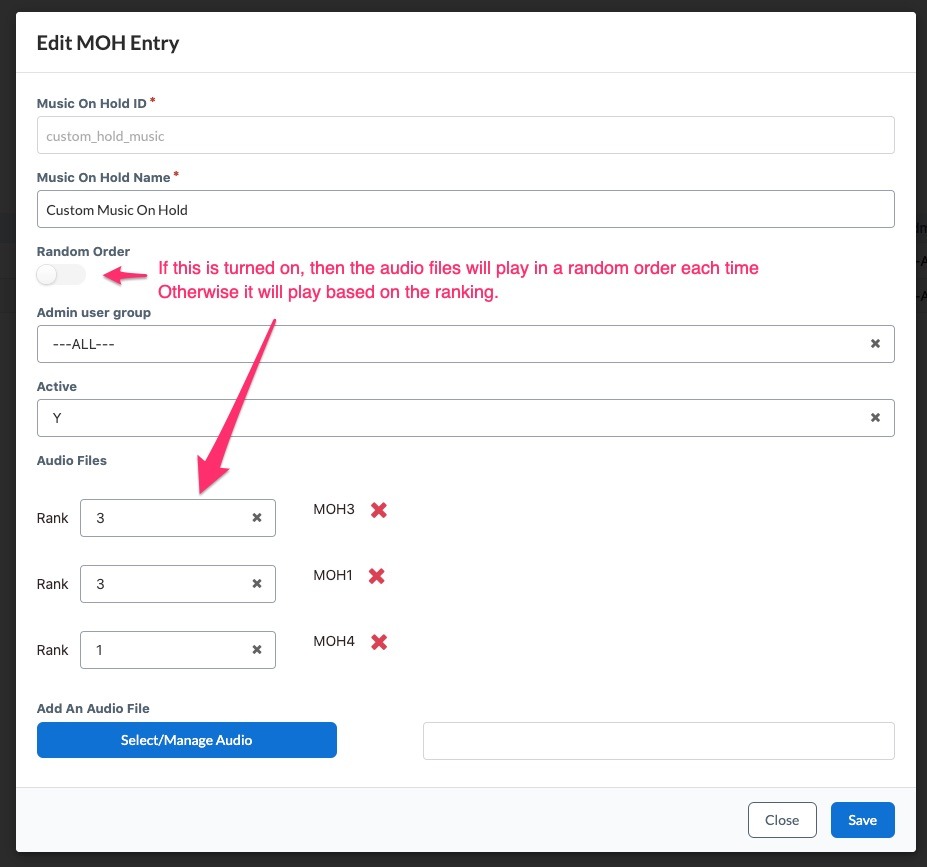 7: Click on "Close" once you have completed setting up your Music on Hold entry
Done

Updating your Inbound Queue(s) to use the new Hold Music
1: Navigate to Inbound → Inbound Queues

2: Click on the "Edit" icon under the Actions section for the inbound queue you wish to assign the new Music on Hold entry.

3: Scroll down to the "Prompts and Music on Hold" section and select your new Music on Hold entry from the drop down list for the "Music on Hold Context" settings option. Then press "Save"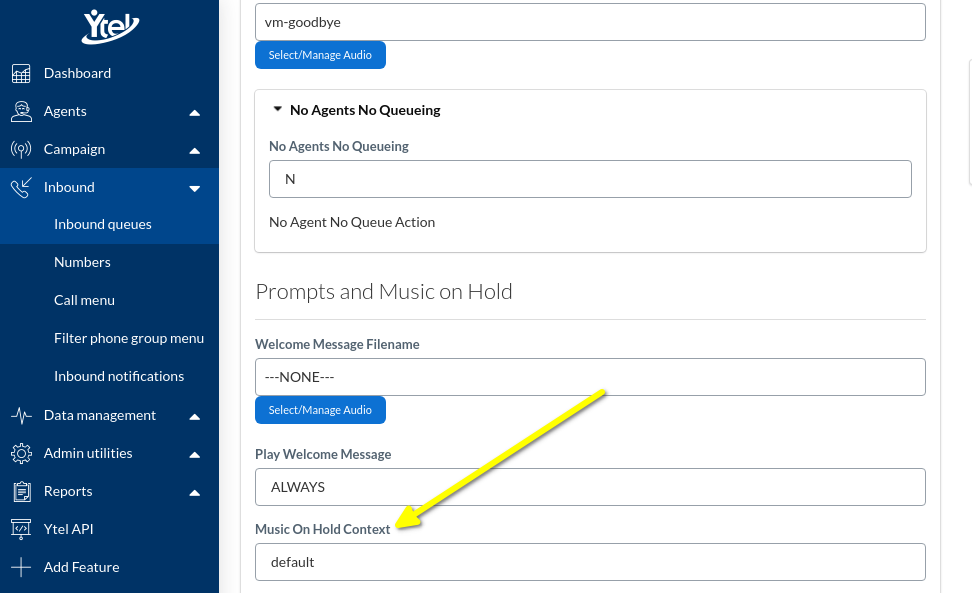 Done
See how to upload audio to your Ytel system
We're here to help - if you need assistance, please contact the Ytel support team via email at support@ytel.com or you can click the live chat button at the bottom right of your screen.